Most women spend a bundle on skin treatments and cosmetics that would have them looking as flawless as their favorite stars and celebrities. But, even though a lot of A-listers claim that they prefer the natural look to the made up one, the truth remains that a lot of high end cosmetics go into making these ladies looking like natural beauties. Brooke Shields, who was recently caught without her makeup on, looked exactly like a 47-year old should though the natural suppleness of her skin proved to be saving grace for the model/actress.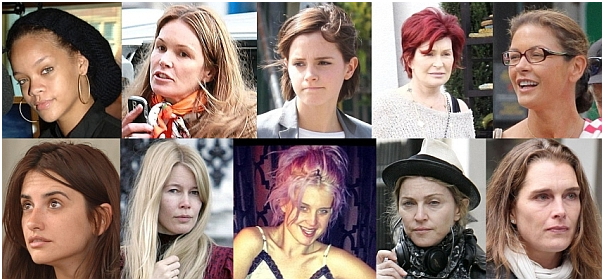 ---
Former supermodel Claudia Schiffer too looks like a mere mortal without her makeup on as does Elle Macpherson who looks older than her actual years when she is going bare faced. Hollywood beauties Catherine Zeta Jones and Gwyneth Paltrow have publicly stated that they often go without makeup and prefer the natural look though candid shots of the two beauties show quite clearly that these yummy mummies put in a lot of work to achieve the fresh faced look.
A few celebs who are actually the worse for the make-up free look are Sharon Osbourne and Madonna who actually look quite a lot older than the mid-40s look they achieve with layers and layers of makeup. There are, of course, a few beauties who look fresh faced and younger than their years when they are going without makeup. When English beauty Emma Watson and Hollywood legacy Kelly Osbourne shed their makeup layers, they come up looking fresher and younger and prettier than their red carpet avatars.
And then there are the real natural beauties who look as attractive and youthful with their makeup on as they do without it. The best examples of these would be Rihanna and Penelope Cruz. Not only do the two international superstars have the advantage of being mistresses of exotic good looks, their beauty regimens have also resulted in retaining younger looking skin that shines even without make up.
Via: Daily Mail