The latest news that is creating waves in Hollywood and the world over is an instagram photo that our very own hip hop princess Rihanna posted on July 15 of herself showing off diamonds covering her lower teeth. A truly dazzling smile indeed! What the world wants to find out is whether the 'diamonds in the sky' singer would now sport diamonds on her teeth permanently or is it just a temporary style statement?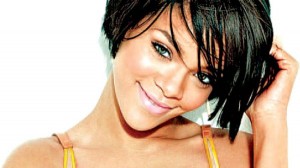 The Glittering New Smile:
The photo posted by Rhi on Instagram which seemed to be self clicked, showed an extremely glittering and expensive smile from up close! Captioned as "I'm an outlaw b-tch.!!" the photograph showed the pop queen wearing one of her trademark midriff exposed tank tops accessorized with a lot of jewelry such as long necklaces, earrings and numerous bracelets all over her arm. The smile was also more dazzling having being accentuated with a bright red lipstick on the lips!
Rhi's 1st Show with the new Beauty Chompers:
Rihanna's first show with her latest diamond encrusted teeth, whether permanent or not, was on Sunday when she along with Jay-Z made a surprise performance for the 2013 Yahoo! Wireless Festival on its closing night! Sending the crowd into a tizzy with this triumphant surprise appearance, the 25 yr old hip hop star joined rapper Timberlake in the final slot of the 3-day music festival at the Queen Elizabeth Olympic Park in Stratford, East London. Her appearance was successfully kept under wraps till the time she joined Jay-Z on stage, sending the crowd and all her fans into a wild frenzy!
Fashion Vs Expense Debate:
The usual debate that ensues after such a celeb style statement is usually whether it was worth it or whether it was all a waste of money. Naturally, blogs, internet and social networking sites since July 15th has been flooded with discussions about whether this new expensive style statement by Rhi is here to stay or not and whether its a mere waste of money or a true trendsetting style statement.
Rhi's Other Encrusted Companions:
Rihanna isn't the first to adorn her teeth with diamonds. Starting from the instagram photograph posted by Madonna of her gold and diamond adorned teeth, to stars like  Kanya West and Lil Wayne, many has taken this style statement leap towards the fashion dentistry way!