Anne Hathway definitely needs no formal introduction as she has fans all over the world. She has been essaying her talent as an actress for a long time now and has bagged a lot of prestigious awards as well. Anne's performance in the movie The Dark Knight Rises was very much appreciated by the audience. There are many other memorable performances by this amazing and beautiful actress. Anne is also a style icon as she never steps out in a non stylish outfit. The actress knows how to mesmerize her audience with her acting and her style.
But Anne Hathway made a very rare fashion misstep in the recent Producers Guilds Awards. The actress was spotted in a not so stylish floral frock which was not what anyone expected from Anne. The always stylish Anne Hathway looked like a fashion mishap. The actress is known for stealing the show but this time it was a whole other story for Anne Hathway. Anne wore almost no makeup except for the dark pink lipstick and her sort hair was styled away from the face. Her latest flick Les Miserables was also in the nominations.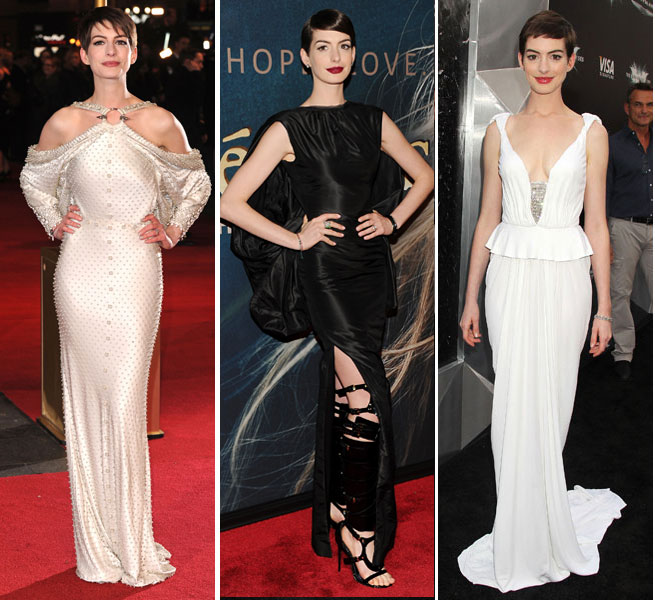 Anne Hathway is surely known for her looks and good dressing sense but it is also true that it was not the only time when she failed to impress the fashion experts. On the occasion of Les Miserables party Anne opted for Altuzzara dress with a Burberry cape and that too did not looked like a fine fashion choice. The dress Anne Hathway wore at the Producers Guilders Awards had a floral stitching in many colors plus it looked quite garish. The dress also had yellow hue that went with the gold heels wore by the actress.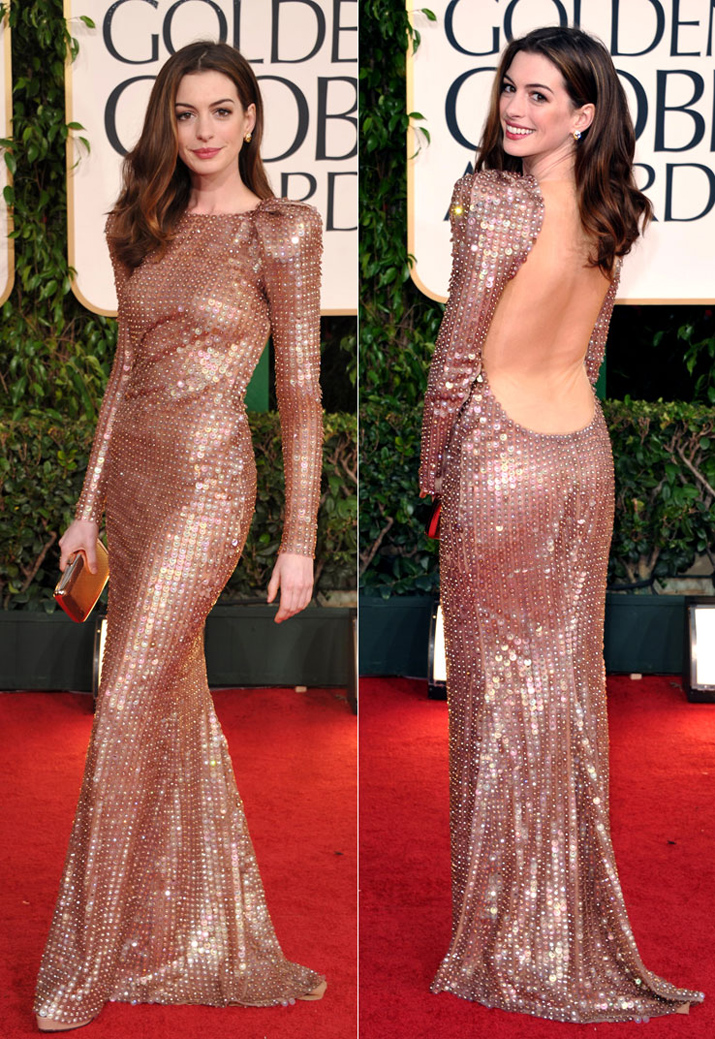 The back of the dress had some extra material that definitely added to garishness of the entire outfit. The only good thing about the dress was that it highlighted the perfect shoulders of Anne Hathway. Other than that the dress scored almost no marks at all as a lot more is expected from Anne Hathway. She possesses a slender figure but the dress was unable to do justice with her frame and that is only one of the cons of the outfit. Anne Hathway is surely a style icon but her choice this time did not go well with that stylish image.