We saw a lot of celebrities wearing amazing and beautiful gowns in 2013 that simply looked wow on the red carpets, whether it was the Screen Actors' Guild Awards, the Golden Globes or the much-awaited event of all year, the Oscars. These are the best gowns we saw on celebrities that made us want more.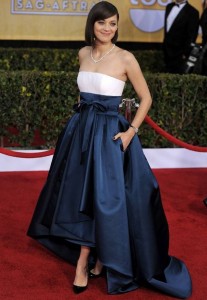 Marrion Cotillard in Screen Actors' Guild Awards – Marrion Cotillard sizzled in a blue and white gown on the red carpet event and wowed us all. We loved the amazing gown plus the very chic and sleek hairstyle she donned during the event. We will be surprised if the hairstyle is not popular among fashionistas very soon.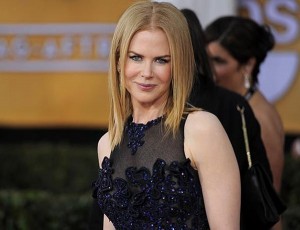 Nicole Kidman  in Screen Actors' Guild Awards– Nicole Kidman looked so very regal in the navy blue Vivienne Westwood dress at the Screen Actors' Guild Awards. The beautiful lacy dress showed just the right amount of skin viz legs and the blonde hair cut very sharp and left open dazzled us all.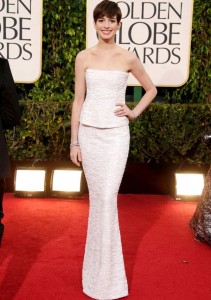 Anne Hathway in Golden Globe Awards – Anne Hathway impressed us a lot during the Golden Globe Awards. The almost always beautifully dressed actor looked amazing in a white Chanel dress which was so very graceful and very subtle. The actor carried off the gown with a very short crop of hair and minimum accessories.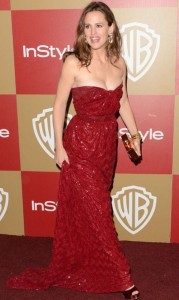 Jennifer Garner in Golden Globe Awards – We loved Jen in the beautiful red grown from Vivienne Westwood during the red carpet event of the Golden Globe Awards. The textured red gown paired with minimal accessories looked amazing on Jennifer Garner and she let the dress do all the talking, like it should.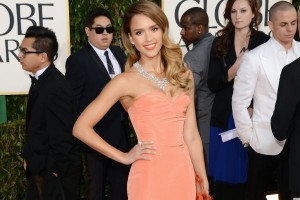 Jessica Alba in the Golden Globe Awards – Jessica Alba rarely disappoints and this time was no exception either. She brought a pop of peach and color to the red carpet event and looked flawless in an Oscar de la Renta gown.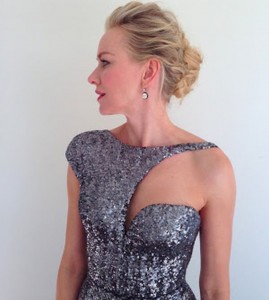 Naomi Watts in Oscars 2013 – The Oscars in 2013 saw a bevy of beauties in Los Angeles looking their very best. Naomi Watts was easily one of the Oscars 2013's best dressed stars by opting for  a bit of a risk with a dress with a directional design and managed to pull it off so well. Naomi didn't play it safe like many of her counterparts and opted for a full-on sparkly silver style with cut-out sections on the shoulders by Armani Privé.