They can act. They can fight. And they can treat us to some pretty amazing on screen stunts. But little did we know that they can sing as well! Let's give it to these celebrities who can surprisingly take the mike head on and give any professional singer a run for his/her money.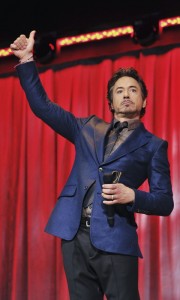 Robert Downey Jr.:
Apart from his squeaky clean, on screen image (courtesy; the 'Iron Man' and 'Marvel's  'The avengers' movies) and not so clean image (thanks to his multiple stints in jail), Robert Downey Jr. actually surprised everyone when one of his old music albums released in 2007 resurfaced again recently. The album features 10 tracks, with the actor penning down most of the tracks while performing most of the tracks himself. He's also played a piano in one of the performances. Ready with an alternate career path in case things don't work out well (not that we doubt it) in tinsel town, Downey?
Scarlett Johansson:
We know her for her splendid portrayal of several roles like Janet Leigh (Hitchcock), Kay Lake (The Black Dahila) and the more recent Black Widow (Marvel's The Avengers). But the actress stunned one and all with her melodious voice which came to notice when she was nominated for the Oscar awards for a role that showcased her singing capabilities. She is also said to have recorded an album with singer Pete Yorn back in 2009.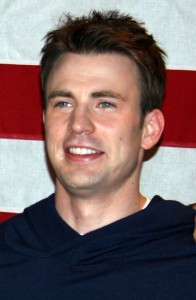 Chris Evans:
With so many talented singers in the cast, the directors of Marvel's The Avengers could have easily penned a Broadway musical and delivered a super hit in it as well. Case in point: another avenger, 'Captain America' played by Chris Evans who is also known for other portrayals like 'The Human Torch' (Fantastic Four series), Jensen (The Losers) and Lucas Lee (Scott Pilgrim vs. the World). But back in 2001, a much younger Chris Evans swept girls off their feet with his singing talent in the comedy flick 'Not Another Teen Movie'). More recently though, he showcased his singing prowess again in the rom-com 'What's Your Number?' released in 2011.
Jennifer Love Hewitt:
Known for her roles in the hit franchise 'I Know What you Did Last Summer' and its sequel 'I Still Know What You Did Last Summer', Jennifer Love Hewitt has surprisingly been a singer for years (obviously behind our backs). The actress has some pretty decent solo hits added to her record, and we can't help but wonder how she manages to combine the raw sound elements of both Michelle Branch and Alanis Morisette in her voice. Not to be missed is her hit single 'BareNaked' back from her album (with the same name) in 2002.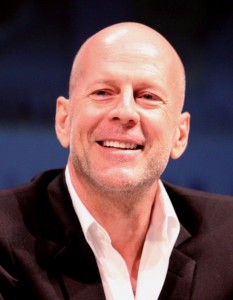 Bruce Willis:
The Die Hard hero may have fought off plenty of bad asses in the series. He is also known for his roles in 'Pulp Fiction' and 'The Sixth Sense'. But little did we know that there is a soulful singer inside that otherwise tough-guy demeanor. Bruce Willis is a talented musician and has released several solo albums in addition to lending his voice to several other 'multiple compilation' albums.