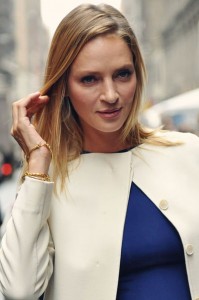 There are several celebrities who have given birth to their kids after turning 40 years of age. Check out which are some who have extended their childbearing age and their experiences about it.
Uma Thurman: She obviously didn't let her biological clock interfere in her family affairs and surprised everyone with her baby's news recently. At the age of 41, she already is a mom to 13-year-old daughter Maya and 10-year-old son Levon.
Kelly Preston: Kelly delivered a healthy baby at the age of 48. She recently told everyone on a show that the risks were never considered by her, but it was difficult. So, Kelly thought that both she and her husband John Travolta were really fortunate to have this kid named Benjamin in their lives. Earlier, they had lost their 16-year-old son in an accident and were heartbroken.
Marcia Gay Harden: Marcia's first daughter Eulala was born at the age of 41, and now she has given birth to twin babies Hudson and Julitta at the age of 44.
Halle Berry: After having her first child at 41 years of age, Halle Berry told that her second pregnancy was amazing, and unlike other older women facing late childbearing troubles, she said her time was fantastic and she felt like a superwoman. Halle wishes if she could always feel the same way!
Salma Hayek: She also gave birth to her daughter Valentina at the age of 40.
Susan Sarandon: Susan's son Jack Henry was born when she was 42, while her other son Miles Guthrie came into her life at the age of 45.
Brooke Shields: Brooke had suffered from postpartum depression after her first daughter Rowan was born in 2003. Later, after her battle with PPD, Brooke's second daughter Grier was born at the age of 41 in 2006.
Celine Dion: After Celine and her husband René Angélil had a son 10 years back, they again got blessed with twin sons when Celine was 42. But, it happened after a shattering miscarriage and several IVF rounds she had to face. Celine told she followed every advice of her doctors and could do anything to bring her babies in this world.
Helen Hunt: In a journal article, Helen shared her challenging experiences while trying for a baby. But, finally she was blessed at the age of 40 when her daughter Makena'lei Gordon Carnahan took birth.
Nicole Kidman: After having two babies with her ex Tom Cruise, her first biological child was born at the age of 40 and then her second daughter with husband Keith Urban arrived in this world through gestational surrogacy when she was around 44.
Mariah Carey: Even the most awaited celebrity birth by Mariah Carey came at the age of 42 when she delivered twins Monroe and Moroccan.