Ruling the world with her culinary arts is the celebrity TV chef Sandra Lee has been known for her glamour soaked wardrobe which she flaunts in every occasion or event. Her flawless personality which radiates her exuberant self has always believed in keeping her beauty simple, yet peppy and zestful. Her wardrobe always showcases the same elements which define her vibrant attitude. Be it classy, sophistication, elegance and aristocracy and many such distinguished elements, the outfits worn by her contain every single slice of these elements.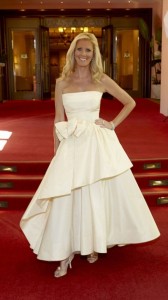 The outfit which stood apart…
Recently at the 65th annual Primetime Emmys which was hosted in Los Angeles, witnessed Sandra Lee in a sensational Vintage Dior outfit. Based on the Life & Style reports, Sandra Lee wanted to sparkle the evening with essence of glamour uniqueness. Generally, it is seen that celebrates love and welcome the idea of looking spectacular by wearing something uncommon or even bringing back the classic trends which were followed during the yester years. Hence vintage wear sports an evergreen essence, yet sets foot with the latest fashion blends of today's world.
What was the look?
The outfit that was donned by Sandra Lee was a strapless tea length dress cum gown soaked in the milky shades of vanilla cream color. The striking look of the entire dress was the satin bow which glamorized the look. The accessories that were chosen to compliment this outfit were the Dior make 'peep-toe pumps' which were of pink satin and jewelry designed by Neil Lane.
The stroke of inspiration for Vintage Dior
The vintage Dior collection was inspired from the trendy legendary collection of the 1950s that was marked as the initial collection showcased by Yves Saint Laurent, post takeover of the House of Dior.
Celebrity fashion with a holistic view
Celebrities have always been considered as the main style carriers of trends and fashion fads. Be it the outfits, accessories and other stylish elements, celebrities have always brought in a fashion which was in vogue and trendy with all ages.
Celebrities like Sandra Lee loved wearing outfits that dazzle with the event being attended to. For instance, red carpet events and programs, award functions, etc have Sandra Lee wear theme based costumes which undoubtedly makes her the show stopper for the evening.
These days, Sandra Lee is all busy getting set for the grand event hosted by the Elton John Aids Foundation, wherein she will award the Enduring Vision Award crediting to her successive contribution.