Whether you believe it or not, but trends don't just become a fad on runway, they only reach us once the celebrities don them. Yes, celebrities from the Tinsel Town are the major fashionistas who are responsible for popularizing endless trends. Whether it's Katherine Hepburn's minimalistic trouser dressing, Marilyn Monroe's classic curls and bangs, Audrey Hepburn's little black dress or Halle Berry's swimsuits and short crops, celebrities have always managed to change the look of fashion. Here we discuss some of the modern divas who have revolutionized contemporary fashion.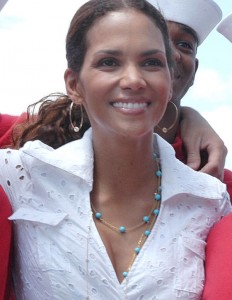 The Barbie doll of Hollywood, Selena Gomez, is the newest global fashion icon. The 'Wizards of Beverly Hills' star, has the sense to pick the right outfit according to her age and occasion. Never too much, nor too less is her statement. Be it the stunning red gowns for Oscar evenings or spring sundresses, she has the sense of when and how much to flaunt.
Then are the Kardashian sisters: Well, they might not be 'celebrities' for some, but their million dollar fashion sense is definitely a jaw dropping one. In fact, Hollywood believes that they are also stunning fashion designers.  With outlets in Miami, Los Angeles, and New York, these girls rule the fashion market.
The 'Avatar' girl Zoe Saldana is also on the right track of fashion. She knows how to accentuate her curves and look feminine. Recently, she was the heart of Calvin Klein's underwear campaign, and if rumors are to be believed, then the lady will soon come up with her own fashion line.
Starrer of her own production 'The City,' Whitney Port, famed for her acting skill, is also a fashion revolutionary with her brand, 'Whitney Eve.'
The 'Love Story,' girl Taylor Swift's dressing sense is matched with her Barbie doll looks and green eyes.  She is the ultimate diva who is envied for her strong fairy tale princess' choices.
The next in the list is unique style Rihanna, known for her exclusive dressing style. Her colored hair coupled with anything she puts on send a bold fashion statement.
After 'The Hills' series, Lauren Conrad, ventured right into the world of fashion with Teen Vogue. Few years later she launched her own line of Lauren Conrad fashion that also features in the LA Fashion week.
Speaking of trend setters, who can forget the quirky style of Lady Gaga! Whether it is coloring her hair white or striking the red carpet with three layer cake dress, she never ceases to surprise her audiences!
'Gossip Girls,' Leighton Meester never disappoints her fans. Much like her character in the show, she dons elegant, high end ensembles, and manages to stir controversies too!
And yes, when 'Gossip Girls' are being talked about, one can't forget Blake Lively. Her lively sense of dressing with the 'Upper East Side' look makes her strong contender of contemporary diva title!