The former England captain, David Beckham has announced his retirement from professional football. The 38-year-old football player was recently in a deal with the Paris Saint-Germain (PSG) club, with which he is not considering to extend his deal for another year as he feels he has his reasons to get retired now. Beckham played for an enormous span of 20 years. Now is the time he thinks to get off from the top as he always wanted to end his career being on a high. He shared this and more conversation with his long-time friend and teammate, Gary Neville. After winning his French title with the PSG club, this midfielder thinks he's ready to move on.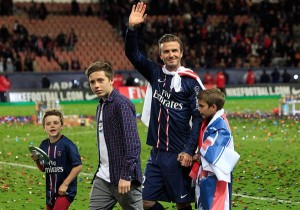 Beckham feels there have been things he has done that got overshadowed by his glorious career. It might not feel like anything to some, but feels bad to him. He said in his interviews that he is a footballer who has got the chance to play with some of the biggest players and clubs and under some of the biggest managers in the world, as well as got the chance to achieve almost everything in this field. This iconic sportsman is ending his glittering career after winning various league titles in several nations, while also holding the record as an outfield player for making 115 appearances internationally. Like several other players, there were highs and lows in Beckham's career too, but he dealt with all such situations strongly and kept on his path to go up and up in his career.
David Beckham is also among the Forbes' highest paid athletes around the world. He has accumulated a wealth of more than $250 million and a good part of it is also through big brand endorsements. Beckham and his wife Victoria are parents to four kids. It is expected that he would like to spend time with his family after retirement and would relocate to London for joining them there. But, he himself has not yet revealed his future plans. It is difficult to describe Beckham's long-term career in few words as it was full of showbiz lifestyle and high celeb status. All through, he made innumerable fans across the world. That is the reason he not only received tributes from colleagues and friends on his retirement, but also from various celebs and even the Prime Minister. His fantastic career has led him to make a name for himself in people's hearts.