The very popular actress Angelina Jolie was rarely seen in public for quite some time now but she broke the loop recently and was spotted in an awards function. Angelina Jolie is a very popular face at a global level but she hardly made any public appearances recently and when she was seen attending an award function then it really come on a surprise but definitely a pleasant one. Although, she made a low key appearance but the shutterbugs rarely miss a thing! The 37 year old actress has come a long way and has made her mark in Hollywood.
Angelina Jolie rarely makes a fashion miss and this time too she looked perfect in an Atelier Versace belted dress which highlighted her body in a perfect manner. The actress walked on the carpet prior to attending the function. The fiancée of famous Brad Pitt also had a special reason to be at the event and that is she had to present the Lifetime Achievement Award which went to Dean Semier. Dean Semier happened to be director of photography in the movie in the land of blood and honey which the directorial debut movie of Angelina Jolie.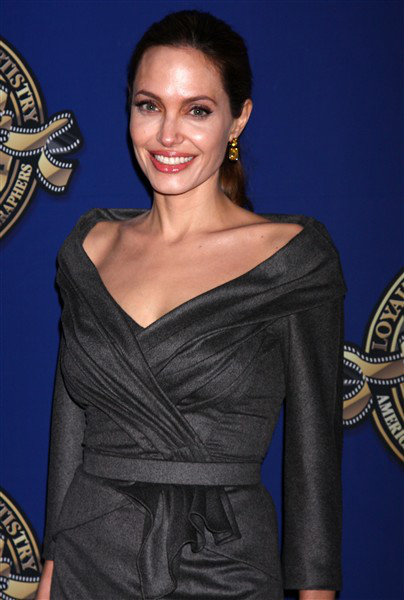 This was the public appearance of Angelina Jolie in not days but months and it was totally worth it. While the rest of the world was busy with the Grammy Awards of the year 2013 Angelina Jolie decided to attend the award function. Angelina Jolie is engaged to none other than Brad Pitt and is mother to six children. The actress must have been quite busy all this time as she has a lot in her hands to deal with. Nevertheless the fans of the actress must be really happy to finally catch a glance of Angelina at the award function.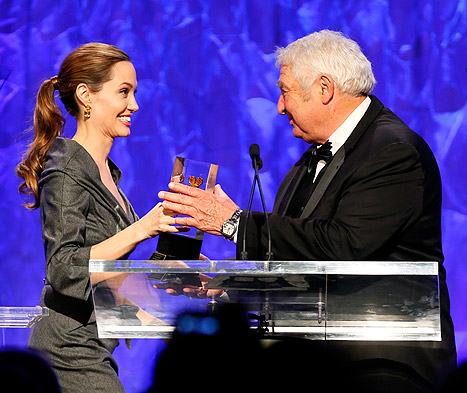 The occasion was the 27th Annual American Society of Cinematographers Awards and they took place in Grand Ballroom which is located in Hollywood and Highland Center. Angelina Jolie looked radiant in the dress she wore and it was a delight to see her walk the red carpet. Angelina Jolie had a good reason to be the award function as she was there to give away an important award to a person who played an important role in her professional life. Angelina Jolie always makes a strong public appearance and she does have a lot of fans all across the globe that loves her and adores her.