Whether they actually cook in them, hire a chef to do it or even sit down and have a meal in them, this list of celebrity kitchens are something you'd want to keep in mind next time when you are thinking of renovating.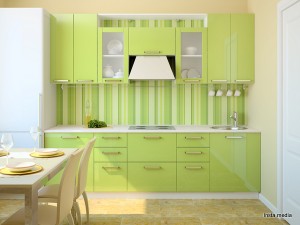 Celebrity Kitchens you'd want to cook in
From clothes to shoes, from their cars to their kitchen, they are doing it right. We bring to you a list of the hottest celebrity kitchens you'd want to cook in and even live in them if possible.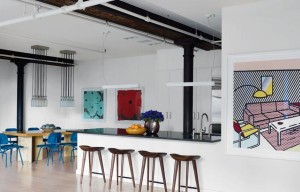 Will Ferrell – This guy is doing it right. We love him for his humour but his kitchen is certainly no funny business. The combination of white with aesthetically placed and colored stools in brown and blue are a perfect match. We also love the modern art that he has used in this kitchen of his.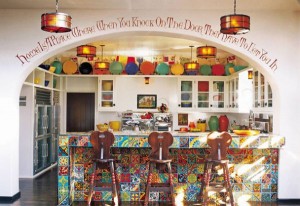 Diane Keaton – This lady has kept it homely and colorful. We are loving the eclectic designs in this kitchen. It is homely and warm and the lovely dishes at the top and the colorful graffiti make it a winner. The quote at the top adds to the feeling of being at home .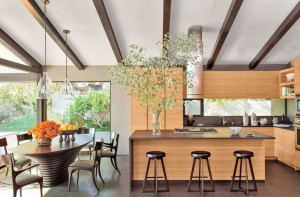 John Legend – We love the dining-table, the stools , the lights and especially that big tree right in the middle of the kitchen ! The pendant lights make this one stand out. One would love to sit down in this kitchen and have a meal.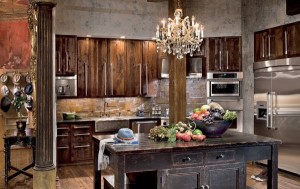 Gerard Butler – With its rustic interiors, this kitchen looks more like it is another part of a medieval castle. The only thing that tells you it is not are the modern appliances. The actor has described his kitchen  as "bohemian old-world rustic chateau with a taste of baroque". One can hardly guess that this wonderful looking kitchen which is a reminder of old times  is to be found in the actor's house in the modern Chelsea neighborhood of New York.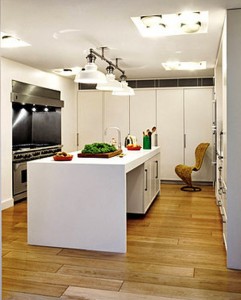 Sting and Trudy Styler – We love the pristine white in this kitchen also the increased ceiling height from seven feet to nine feet. The lights do wonders and the straw chair and the wood-planks on the floors spell organic which win brownie points. This kitchen is to be found in their townhouse in London.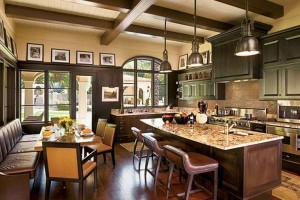 Lance Armstrong – This kitchen is done beautifully and is a part of the professional cyclist's Spanish Colonial-style house situated in Texas. We are loving the brown décor, lights, chairs, shelves, all in synchronized brown and especially the frieze of family photographs that line the top shelves of this kitchen adding a homely feel.