This 31st October witnessed another string of Spooktacular Hollywood parties, with the who's who of Hollywood steeping out in some ridiculous costumes-the talk of the town was Julianne Hough's costume-she chose to dress up as "Crazy Eyes" a character from the series "Orange is the New Black" and she also use tanning lotion to darken her skin!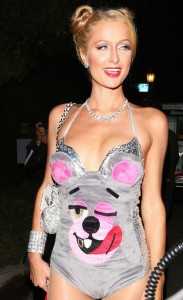 Julianne's brother chose to dress up like a punk, choosing to wear a lot of eyeliner, Mohawk and a punk costume, we will never know what prompted Julianne to choose such embarrassing costume.
Kate Hudson was on of the A Listers who hosted a Halloween party that had a lot of starts trick or treating at her doorstep, Kate's parents were also present at the party dressed as Alps people complete with braids, while Kurt Russell dressed up in a plaid tuxedo.
Paris Hilton was seen attending parties dressed as Miley Cyrus from her VMA's performance, complete with the bathing suit and her hair tied in tiny buns. Fergie chose to dress as Elvira while her husband dressed up as Riff Raff form the TV show "Rocky Horror".
Leonardo Dicaprio was spotted at a party in another part of Hollywood barely recognizable in his black gothic costume. Cindy Crawford was spotted with her husband heading off to a party dressed as Guns 'n' Roses members Axl Rose and Slash-whether they meant to imply that the two were a couple, we will never know. Dicaprio is in New York house hunting before he headed off for a Halloween party, rumour has it that  he has bought a home near the Greenwich Village.
Also spotted at another venue was Mathew Morrison, the star from Glee and Colton Hayes who was dressed as an old lady. The two of them posed for photos in a sexually suggestive manner, Chace Crawford later joined the two as it also turned out to be a birthday celebration for Morrison. Crawford chose to dress up as a cop for this two in one event.
Larry David chose to wear a costume that was not very politically correct, so it seems like Hough was not alone this Halloween. Larry David came dressed to a party as Siamese twins-but just the one half. Another weird costume was donned by Cuba Gooding Jr. who was dressed as Cindy Crawford's husband- we are not sure why he chose this costume, but it definitely help with the weird factor.