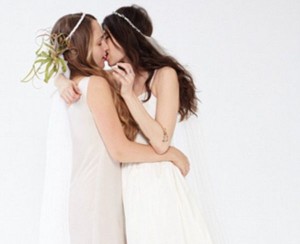 A newly launched bridal label named Stone Fox Bride has chosen the famous HBO series 'Girls' star, Jemima Kirke, for  lip locking with another lady, in their promotional ad campaigns. The same sex lip lock between Jemima and jewelry designer Pamela Love has not only raised eyebrows but it has also spurred too much media speculations. The see through bridal gowns produced by the new bridal label needed to add spice and edge to their promotional campaigns and they have been very successful in doing so by getting two gorgeous ladies kiss each other passionately for their ads.
What's the Fuss All About?
This is the very first time when two beautiful women would kiss and embrace wearing bridal gowns for an ad campaign. Jemima Kirke, who has played a young bohemian girl of British descent Jessa in TV series 'Girls', has got a new role in the Stone Fox Bride's Spring look-book. The wedding designs produced by this new label is for the rebellious modern women who are far from being coy and do not hesitate to do the unexpected. Jemima has also posed in a see through wedding gown for the same look-book without any undergarments. The see through gown has been named "The Jemima" after her. The bare-all lacey gown that Jemima has posed in leaves almost nothing to the imagination. Though Jemima gave birth only last November to her second baby, she doesn't seem at all self-conscious.
What's the Point?
Designer Molly Guy launched the Stone Fox Bride about a year ago. She has emphasized in many of her interviews and ad campaigns that her label is not for the hoity-toity upstart brides from the uptown. She designs wedding gowns for the real women who are not scared of flaunting their sexuality. The new spring look-book also attempts to convey the same belief to the consumers.
Edgy and modern is fine but a lacey see-through wedding gown is not something that any bride will prefer. The lip locking and see through costume, however, has done their job of attracting media attention and providing good coverage to the brand.
As most of us know, Jemima is happily married to a Jewish lawyer. As she prefers wearing posh-looking cashmere to such garments, we wonder if she would have sported the same transparent gown on her own wedding.