Kate Middleton, the royal princess is known for her unique, elegant and feminine fashion choices. When London Underground celebrated its 150th anniversary, the princess not only graced the event with her presence, but also hogged limelight with her ensemble! At Baker Street Station, Middleton looked elegant in Malene Birger creation, a teal, colored coat and Cornelia James designed black gloves, stealing the show. She also sported Episode Angel suede pumps for the second time in this week. However, one thing that ultimately grabbed everyone's attention was her hair.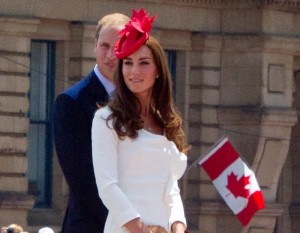 Currently expecting her first child with Prince William, Kate Middleton has taken up a different sort of curls than what she had been sporting previous days. Tight curls have replaced her classic bouncy curls. This new hairstyle complements her headwear very gracefully. And the 31 year old Kate Middleton looks elegantly beautiful with her new look.
Voted as "Most Promising Newcomer" back in 2006 by The Daily Telegraph the legacy of her ultimate fashion choices continues, making her three time consecutive winner on Vanity Fair's annual Best Dressed lists, latest being in 2012. Kate has always been under the scanner and she seldom disappoints. Many girls have tried to replicate her signature styling statement and color. The Duchess is careful about her locks, especially these days, and has opted for glossing treatment that includes lowlights. The trick is to maintain the lowlights a few shades brighter than her natural hair color.
Her hair style evolved from pinned ponytail during the 2011 Royal tour to the big loose curls on Asia tour. Her Hollywood style hair received rave reviews whereas her recent fringe style received mixed response. She even sported her hair with intricate chignons; Richard Ward deserves the credit for it. Now it poses a question how much memorable is the new hairstyle going to be? It was noticed that the curls did not end up damaged by Central line stickiness. She did not face limp and ruffled hair problem, all thanks to her new style quotient. Being the Duchess, she does not only drastically experiment with her style, but she does manage to catch enough media attention with her changing locks royal style.