Woeful about weight gain, Kim Kardashian resorts to her own diet pill brand
Advertising a product is something that is most common among the various celebrities. Every popular face has been associated with one product or the other in order to promote it among the people who could benefit from it, but Kim Kardashian has gone out in every way to promote the weight losing supplement that she has been associated to, along with her sister. In a recent tweet on the social networking website, Kim posted feeling sad about the fact that she has gained so much of weight in these few months. However, the very next tweet stated her delightfulness over that fact that with the consumption the product that she has been promoting has helped her to get down on the weighting numbers too.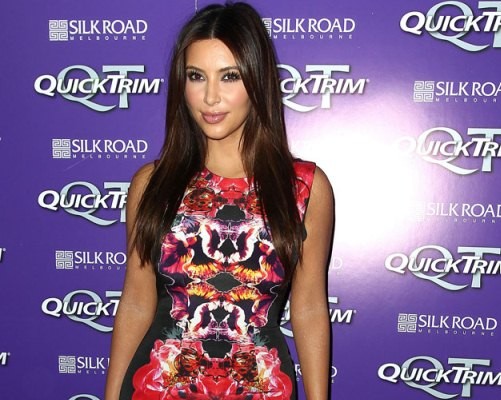 The model, socialite, reality show star and an occasional actress is believed to have a perfect body in the business so the suspicions about the fact that what led to her gaining around 15 to 20 pounds within a few months have been on a rise. However, air was cleared by one of her friends as she told Life and Style magazine that Kim has been eating out a lot lately while spending time with her Kayne West. They have been spending a lot of quality time together as they she feels really comfortable and relaxed around him and he simply love her curves, which has resulted in their eating out regularly and consequently a weight gain. Though the star have not been really apprehensive about her diet plans while being around Kayne, she has now realized that she needs to get back in shape and has thus started with her efforts to lose the extra mass, and her weight lose brand product seems to be helping her a lot in doing so.
Clearly, the self promoted star is ignoring the fact that her associated diet product, QuickTrim is undergoing a court case with a hefty preliminary expense of around $5 million being stated in their accounts under the allege that the model and her system teamed up with the supplement producers to disguise people with the false claims of weight lose. She is continuing to promote the product in Australia now, after getting unpleasant reviews from America along with advertising it on her twitter account by claiming to have effectively used it herself in order to get the consumer ship back for her product which has lost due to the lawsuit.