It has always been true that connoisseurs are reckoned with because they are well, connoisseurs. And when you are something called the Victoria's Secret Angel, it comes something as a second to being natural. 29 year old Australian beauty Miranda Kerr is certainly no different. With a face and a dimpled smile to die for, Miranda is certainly one of the best in the biz.
Also, she is perhaps one of those few females who can aptly be called the yummy mummies as well. Whether it is her sense of fashion or her onus as a mother, Miranda Kerr is a truly an Angel from whichever way you look at it.
How She Gets It Right
Not too long ago, Miranda Kerr had revealed that the secret of her skin and glow was all down to coconut oil. However, the secret of her immaculate style of looking the best at all times is indeed yet to be discovered. The best of the industry, and of course most of her fans, certainly wonders what works. Whether be it the runway or a simple outing with her kid or a fashion event, something just sparks.
Above all, it baffles most at how natural make-up could go on to look so extraordinary. Take for instance, the day out with her one year old son Flynn. Imagine Manhattan in the winter and try to match that with her black knit mini dress with bare legs and double toned stilettos. However, she is one person who is not afraid to layer up. With dark glares and a dark huge purse, and above all with Flynn in her arms, she still looked like a million bucks.
Take two would of course be her black and peach full length dress. Her hair down, simple yet elegant shoes and a smile in place, she looked like herself and yet somehow sophisticated. The way she carries herself says it all.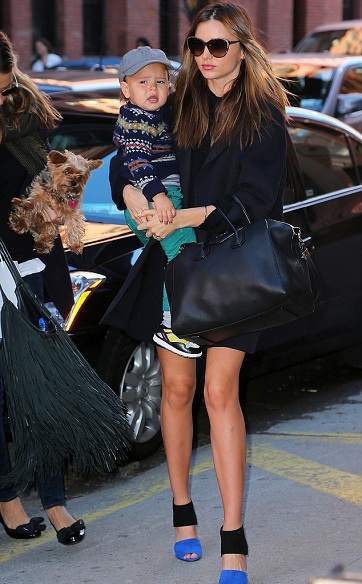 Family and Lingerie
Not someone who is ashamed of her being, Miranda Kerr declared long back that she has no qualms with walking around in the most expensive and the most stylish lingerie while on the runway. However, an attentive mother and wife are seldom found.
Miranda speaks warmly of her son all the time. Flynn it seems is already true to his genes with wanting to learn how to dance and sing, all the while being in awe of Canadian Pop Sensation Justin Bieber. Of course being the son of Pirates of the Caribbean man Orlando Bloom and Miranda Kerr, who would expect anything, less?