Nail –art is in . All of our celebrities are seen sporting sexy and trendy nail-art nowadays on events and award functions.
Top Nail Art Spotted on Celebrities
You can go for a simple manicure or one that is loud and blingy depending on what outfit you wear , one thing is for sure , all our celebrities are in love with nail-art. We bring you a list of our favourites.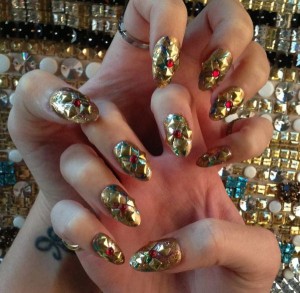 Katy Perry – The celebrity singer sure loves nail-art and we love this piece of work she spotted on her nails recently. It went perfectly well with the golden outfit she was wearing . She sure looks like a queen in this golden look. She tweeted that this look was to pay homage to the "OG Queen of Punk, Joan of Arc". We loved the bling in this.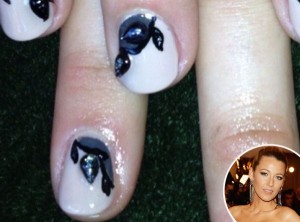 Blake Lively – We loved this simple and yet elegant manicure on Blake Lively's nails. The nail-art went perfectly with her Gucci gown. The black roses and vines are a winner. You can easily do this nail-art at home and sport it on all occasions.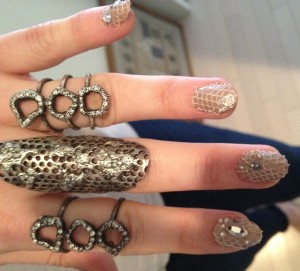 Emmy Rossum – This is one of our favorites. The same lace which is used in Rossum's gown is also used to create that perfect nail-art. We also love the nail accessories and rings she has worn on her fingers.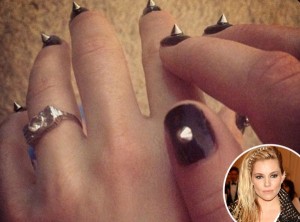 Sienna Miller – She went all punk on this one and we loved it. The whole look was perfect with spikes on her hair and outfit. Singular studs on her manicure was not too overboard and was done in s imple black nail-polish . Definitely sexy. What we loved most about the manicure is she spotted a skull-head on her big –toe as well. Talk about the perfect finish!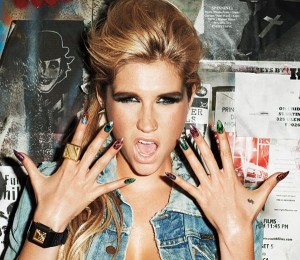 Ke$ha – Ke$ha had colourful hair when she was spotted with this beautiful nail-art done in black on a few nails and metallic embellishments on the others. The accessories on the nails and the bangle on the wrist complete the look.  
Katy Perry  ( again ) – This singer sure loves her nail-art and we do too ! This nail-art which she was seen wearing at the AMA's is a polka-dotted design in black and white . We love the massive rose on her finger as well.